by Bilan Williams
Special to The Catalyst

MUSC volunteers took advantage of the 94th PGA Championship, held at the Ocean Course on the Kiawah Island Golf Resort, Aug. 6 – 12. The event marked the last major golf championship of the year and the first major championship in South Carolina history.

The event gave volunteers a chance to be part of a major golf championship boasting the top 108 ranked players in the world, an event with significant economic impact locally.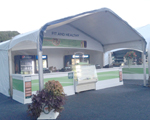 Staff from the Department of Psychiatry and Behavioral Sciences volunteered at the Fit & Healthy tent during the PGA Championship. A portion of the proceeds from food and beverages sales were donated to the department.

MUSC's Department of Psychiatry and Behavioral Sciences/Institute of Psychiatry (IOP) had several volunteers braved seven days of hot temperatures with occasional rainy weather, long hours and challenging traffic to help maintain the Fit & Healthy tent, which provided healthy options for tournament guests.

"There are so many stigmas surrounding psychiatry and mental illness. We try our best to be a part of any opportunity to spread the word about the importance of good mental health," said Jennifer Green, director of Institutional and Community Partnerships in the IOP. According to Green, the department is expected to receive about $5,500 for their participation.

She called it a monumental event. "We got to be involved in the PGA Championship, and that is a once-in-a-lifetime opportunity."

Green, the team leader, was on Kiawah Island every morning for the 5:30 shifts and was often there when the tent closed in the evenings. "Waking up at 4 a.m. was tough. It's almost like a different world at that time of the morning. My Labrador didn't understand why I was waking him up so early to go outside."

John Messinger, a volunteer who heard about the opportunity from a friend who works at MUSC, said he enjoyed every aspect of it. "From the first morning on the shuttle bus with all the other volunteers pulling onto the grounds and seeing the back nine holes of the course in the distance was kind of a rush. Everyone was so friendly and just happy to be there."

The practice rounds, held from Monday through Wednesday, generated moderate crowds and allowed the volunteers to become familiar with the tent. However, when Thursday came, the crowds grew.

Frampton Gwynette, M.D., an assistant professor in the Department of Psychiatry, was the only physician to volunteer.

"The Fit & Healthy tent had a lot of good options for customers. The veggie burgers we served were outstanding. Most customers were looking for ice cold beverages after coming off the course, and we sold a lot of drinks."

Traffic posed challenges, as did other problems, such as cash registers dying from getting wet from rain and refrigerators that didn't work properly, but in spite of setbacks, the volunteers worked well together to resolve any problems.

Messinger said volunteers got to know each other quickly. "As a group of mostly strangers working together, I don't think you could ask for a better working group. We had difficulties that would arise pretty often, but the volunteers were very upbeat and positive. Jennifer did a wonderful job of mediating and problem solving to keep us moving forward."

Tabitha Ottiwell, a systems analyst in the Office of the Chief Information Officer, agreed that the team worked well together. "Once we all got in the groove, it was a well-oiled machine."

Green said the volunteers were awesome. "We definitely overcame challenges that we didn't expect, but some things were just beyond our control. Everyone was understanding and patient. I am very appreciative to have had them out there supporting the cause. Without them, we couldn't have done this."

Volunteers seem to agree that the most enjoyable part of the opportunity was being able to walk around the course like other fans before or after their shifts. Several stuck around to see or follow professional golfers such as Phil Mickelson, Sergio Garcia, Bubba Watson, Ernie Els and Adam Scott.

Messinger said he took advantage of the opportunity. "My shifts went by quickly. I tried to stay busy, and by 1 p.m., I was done and heading to the course. I would meet up with friends." He even got to speak briefly with Tiger Woods and Rory McIlroy, who went on to win the championship by a record-setting eight strokes.
Volunteers were allowed to walk around the golf course before or after their shift ended. Several volunteers followed professional golfers such as Phil Mickelson and Bubba Watson.

"Watching the practice round on Wednesday when the players were still relaxed and would sign autographs for kids or talk to spectators on the tee box was memorable. I also got to follow Tiger on the back nine on Friday. To be in that atmosphere, everyone cheering as he walked to the 18th green was awesome. I'm not even a fan of Tiger, but it was really cool."

Green said the responsibilities were greater than anticipated. "It was definitely a challenge. Suddenly I became a food and beverage manager for the week. This experience has definitely given me some insight into how I might run other events in the future."

Messinger found the experience rewarding. "Don't get me wrong, there were moments that I had to deal with situations I didn't want to, but that's why they need volunteers. Having good people around made it much easier and actually kind of fun."

He also learned an important fact about the Institute of Psychiatry. "I learned that when someone from MUSC says IOP, they're not talking about the Isle of Palms."

Gwynette said that the opportunity was well worth it."Volunteering always feels good and reminds us that getting paid is not what it's all about. If our efforts can help MUSC support people in need, we are there."