During the university's Finance & Administration award ceremony, Lisa Montgomery, executive vice president, recognized employees for their dedication.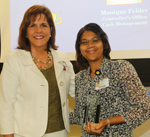 Lisa Montgomery, left, executive vice president of finance and operations, Division of Finance & Administration, honored Monique Felder with the Employee of the Year award, Aug. 15.

Employee of the Year was awarded to Monique Felder, who has worked with the institution for more than 20 years. Felder was the division's third quarter winner.

Kathleen Williams, left, receives the PEER of the Year award from Lisa Montgomery.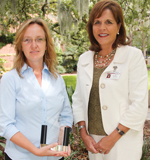 The Cindy Garmon PEER (Promoting Employee Excellence with Recognition) of the Year award went to Kathleen Williams. Williams received nine PEER post cards from coworkers thanking her for demonstrating qualities of excellence and assisting others.