The MUSC Urban Farm is recruiting farm hands to volunteer and receive training to assist with the farm.
The farm is designed to be a living classroom where students, faculty, staff and the community come together to explore the connection between food and health through hands-on learning about the many varieties of vegetables, fruit, and herbs grown in South Carolina. Volunteers are the key to sustaining a successful project.
What is a farm hand?
Farm hands are volunteers who participate in MUSC Urban Farm activities on a more regular basis and have received additional training. Once trained, farm hands can assist in any of the following ways: hosting scheduled groups at the farm, relaying weather information to meteorologist Tom Crawford at WCIV-TV News 4 (from the MUSC Urban Farm Weather Station), representing the farm at community events, contributing to farm planning/farm management as well as day-to-day activities on the farm such as maintenance, watering and weeding. The level of commitment expected from our farm hands is flexible and based on the volunteer's schedule and area of interest.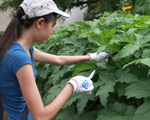 The MUSC Urban Farm needs volunteers to maintain the garden.
Why become a farm hand?
Farm hands are an important component of the team and ensure the long-term success of the MUSC Urban Farm project. In addition learning about urban, organic gardening, participants will have the opportunity to meet like-minded people and enjoy the benefits of an active, healthy hobby.
How to become a farm hand?
Visit http://academicdepartments.musc.edu/urbanfarm/involve/volunteer.html, fill out the volunteer form and sign up for the next training session, scheduled 5 – 6:30 p.m., Oct. 3. Registration is required for training sessions at the Urban Farm. Email urbanfarm@musc.edu.

Employee Wellness events

Zumba at Harborview Office Tower: Join licensed Zumba instructor Felecia Curry for a weekly Wednesday night Zumba class held from 5 - 6 p.m., Room 910, Harborview Office Tower. The workout accommodates any fitness level. Space is limited. Email curryf@musc.edu or call 822-6136 to register.
Worksite screening: The next worksite screening, valued at about $350, will be held on Sept. 27, Room 109, Colbert Education Center & Library Building. The screening is available to employees with the State Health Plan for $15 (covered spouses can also participate for $15). Employees and spouses without this insurance can participate for $42. The screening includes height, weight, blood pressure and a blood draw for a blood chemistry profile, hemogram, and a blood lipid profile. To register, go to www.musc.edu/employeewellness and click Worksite Screening.
Farmers market: Fresh fruits and vegetables are available from local farmers from 7 a.m. – 3:30 p.m., Sept. 24. Due to the Heartwalk Hustle, the market has been moved to Sept. 24.

Contact Susan Johnson, Ph.D., at johnsusa@musc.edu for more information on the Office of Health Promotion at MUSC and Suzan Benenson Whelan at whela@musc.edu for specific information about Employee Wellness. Events, classes or any other ideas are welcome.