MUSC received a $250,000 Hope Grant Sept. 6 to support research focused on the treatment of neuroblastoma, becoming one of 41 recipients of Hope On Wheels' 2012 Hyundai Hope Grants.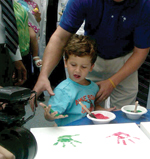 Chase Towne, 4, enjoys making a handprint.

The grant was presented at a signature Handprint Ceremony in the Children's Hospital atrium. This ceremony captures the colorful handprints of young cancer patients and places them on a white 2012 Hyundai Tucson, the official vehicle of the program. Every Handprint Ceremony celebrates the lives of children faced with cancer and commemorates their brave battles with cancer.

According to John Krafcik, president and chief executive officer of Hyundai Motor America, "At Hyundai, our goal is for a child to never again have to hear the words 'you have cancer.' Through the support of our dealers, hospital partners, and online community, this goal is attainable as we join together for a cure. We congratulate and commend each institution for their important life-changing work, and thank our supporters for their continued efforts."

To improve the odds in the fight for a cure, Hope On Wheels raised its Hyundai Hope Grant award amount this year from $100,000 to $250,000. In all, $10.25 million will be awarded in grants during the month of September in honor of National Childhood Cancer Awareness Month. The monthlong program marks Hope On Wheels' largest research grant donation period to date. It will bring the total amount that the nonprofit has committed to childhood cancer to $57 million since it first began in 1998.
Dr. Mehrdad Rahmaniyan holds a check that will go to fund his research in the treatment of neuroblastoma, a cancer that forms in nerve tissue and often begins in early childhood.

Jacqueline Kraveka, D.O., director of MUSC's pediatric oncology research lab, said she's pleased to be a part of the Hope On Wheels campaign. In its third annual September campaign, Hope On Wheels opened its competitive grant program to all Children's Oncology Group institutions. Every proposal received was reviewed by Hope On Wheels' Medical Advisory Committee, comprised of leading pediatric oncologists from around the country.
"We are honored that Dr. Mehrdad Rahmaniyan is a recipient of Hope Grant," said Kraveka. "I commend Hyundai Motor America for its commitment to pediatric cancer research. Our laboratory focuses in neuroblastoma, one of the deadliest childhood cancers. This grant will support research on targeting a novel lipid biomarker to improve survival rates for high risk neuroblastoma patients."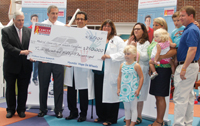 Dr. Rita Ryan, fifth from right, applauds Hyundai Motor America for donating $250,000 toward research at MUSC Children's Hospital. With Ryan are: (from left) Rick Hendrick, Sam Brnovich, Dr. Mehrdad Rahmaniyan, Dr. Jacqueline Kraveka and the Towne family, Christine and Chuck with children Olivia, Chase and Faith.
For additional information on Hyundai Hope On Wheels and its efforts during National Childhood Cancer Awareness Month, visit HyundaiHopeonWheels.org.