by Cindy Abole
Public Relations

College of Medicine's associate dean for student affairs John R. Freedy, M.D., Ph.D., loves many aspects of his job from getting to know students to helping them achieve their career goals.

But already he's dealing with a paradox.

Freedy hopes to prepare students as they emerge as physicians who are not only skilled and proficient in the procedural approach to medicine, but who are humane, compassionate and dedicated to a patient-centered approach to health care.

Achieving this balance is a responsibility that Freedy, his team and other colleagues are committed to improve as part of the medical education experience.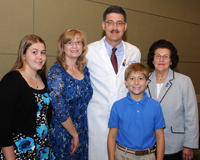 Medicine's Dr. John Freedy is joined by his daughter, Madison, (from left) wife, Melba, son, Matthew and mom, Dr. Lucy R. Freedy, at the college's Aug. 19 White Coat Ceremony.

Freedy's proud of the fact that this year's incoming medicine class had more than 3,500 applicants, 468 of them interviewed and 168 students selected. Of that number, 79 students are women, 89 men and 31 students are underrepresented minorities. The undergraduate GPA average was 3.7 and average MCAT score was 30.

In 2011 and 2012, MUSC was named among the top 10 most popular medical schools by U.S. News & World Report.
The medical school remains a national model for diversity in education and clinical care. In 2008, MUSC won the Association of American Medical Colleges' Institutional Leadership in Diversity Award for establishing pipeline programs that support diversity in medicine. The college seems on track in meeting its goal of becoming a top 25 academic medical center by 2015.

"I look forward to getting to know and working with our students. It's important that they know our staff works for them, and we are advocates for each of them to do well at MUSC," said Freedy, who graduated from MUSC in 2002.

At the Aug. 19 White Coat Ceremony, Freedy addressed the Class of 2016 medical students. He called on students to embrace the role of a physician as a lifelong service to humanity, the profession and to fellow physicians. He promoted the value of the doctor-patient relationship and challenged students to find their inner "mensch" and develop personal qualities such as integrity and honor that can distinguish them as a good person and physician.

He shared a quote from a personal hero, Albert Schweitzer, M.D., a Swiss-born theologian, philosopher, physician, musician and medical missionary, about seeking one's destiny through service. "I don't know what your destiny will be, but one thing I know; the only ones among you who will be really happy are those who have sought and found how to serve."

Currently, Freedy leads the Group on Student Affairs to provide support, advisement and counseling to medical students. Staff members are committed to helping students achieve success through academic and personal counseling and career advising. They also work with students to find solutions to resolve issues and concerns and can provide referrals to campus resources including the Center of Academic Excellence, Student Health Services, Counseling and Psychological Services, Financial Aid Services and other support programs.

Deborah Deas, M.D., senior associate dean for medical education, realized the changing needs of medical students and wanted to expand services that support them. Deas and senior leadership in the college are responsive to student feedback and responses used in student satisfaction surveys, questionnaires and ongoing assessments.

"Dr. Freedy brings skills as a psychologist, family physician and educator that are a great match in managing both professional and personal issues relating to our students. Even if things are not problematic, Freedy and his team's expertise and dedication promote each student's personal well-being in a positive way."

Freedy came to his new role in March. He is an associate professor and clinical educator in the Department of Family Medicine where he directs the behavioral science curriculum for residents at the Trident/MUSC Family Medicine Residency Program. His research and clinical interests include traumatic stress, PTSD and the relationship between mental health and chronic disease.

Being involved in leadership and academic medicine was no accident for Freedy. His choice to work in academic medicine follows a family tradition of service in medicine and to humanity.

Freedy hails from a family of physicians. Father, Robert, was a general practitioner and mother, Lucy, who was among four females in a class of 88 students who graduated from Duke University's School of Medicine in 1957, became an accomplished radiologist and academician at The Ohio State University. Another brother and brother-in-law also are physicians. Together, they've provided more than 160 years in medical practice.

After earning his undergraduate degree in psychology from the University of North Carolina at Chapel Hill, Freedy completed his master's and doctorate in clinical psychology at Kent State University in 1990. He went on to earn his medical degree from MUSC in 2002 and served a three-year residency with the Trident/MUSC Family Medicine Residency Program at Trident Medical Center.

He completed several fellowships, including a National Institute of Mental Health sponsored research fellowship in 1990, and a National Institute for Program Director Development Fundamentals with the Association of Family Practice Residency Directors in 2008, among other educational leadership training experiences at MUSC. His leadership in graduate medical education included several department and administrative positions, including program director for the Trident/MUSC Family Medicine Transitional Year Residency and Institutional Review Board Chair for the Trident Regional Medical Center.

For now, Freedy is focused on finding ways for his team to be more connected with medical students.

"I believe that all people have great potential. My aim is for our Student Affairs team to develop strong and meaningful relationships with each of our medical students and to use these relationships to support our students in reaching their natural potential."
Group on Student Affairs
John R. Freedy, M.D., Ph.D., associate dean; Myra Haney Singleton, assistant dean; Chris Pelic, M.D., associate dean for Student Career Planning and Advising; Marta Rivell, Student Activities and Student Affairs manager; and Alva Blair and Artice Smith, administrative support