MUSC celebrates its six-month anniversary of becoming a tobacco-free campus in earning a Gold Star award from the South Carolina Hospital Association.

The award marks the culmination of hard efforts to transform the campus into a tobacco-free environment representative of MUSC's mission to maintain a healthy environment that promotes wellness and good health habits within all MUSC facilities.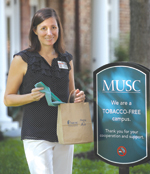 Dr. Kelly Crowley holds up one of the bags full of free gifts that employees received who signed up for the Pitch the Pack campaign. It was part of the rollout of MUSC's tobacco-free campus.

Susan Johnson, Ph.D., director of the Office of Health Promotion, said it's an important milestone for MUSC in what has been a long journey, including legislative advocacy efforts. A state law was signed into effect June 5 that gives authority to the governing bodies of public colleges and universities in South Carolina to legally declare and enforce tobacco-free campuses to include outdoor spaces.

"MUSC has now met all the criteria and has officially been designated as a Gold Star Hospital for creating a tobacco-free environment and providing comprehensive cessation support resources. We are honored to receive this award and are looking forward to celebrating our success with our amazing colleagues from the South Carolina Hospital Association and N.C. Prevention Partners in the near future."

Jen Wright, manager of Working Well with the association, praised MUSC for its efforts, noting that it's the first institution of higher education in the state to do so. She said the accomplishment proves MUSC's clear leadership and its commitment to the health of its employees and the community it serves.

"You are setting a high bar for the rest of South Carolina hospitals to meet while making a positive impact on population health," she said in a letter citing MUSC's award. "We will look to you once again to help lead the way in efforts to increase the number of tobacco-free higher education campuses across our state. Thank you for your immense efforts in changing legislation to make sure this vision is possible. We will count on you to continue to share your stories of success as a model for other hospitals and businesses in the state and across the country."

The other major milestone is the success of MUSC's Pitch the Pack cessation program. More than 60 employees participated in the program that was rolled out to coincide with the new policy. The cessation program provided classes, counseling and a free, one-month medication supply to all participating employees and students.

Kelly Crowley, PharmD, manager of Ambulatory Pharmacy Services, said the department was happy to participate in the tobacco-free campus campaign.

"There were many MUSC employees who were able to take advantage of the coupons and low priced items available from our pharmacies to assist them in their decision to quit smoking. Although the coupons are no longer available, many of the low priced smoking cessation products are still available for those making the decision to quit."

Stewart Mixon, chief operations officer for the university, said he's been thrilled to see how well the transition was handled and how cooperative employees have been in accepting the change. The change is part of a long process that started with resolutions passed by the Student Government Association and MUSC's faculty senate. MUSC became a tobacco-free campus March 1. On a personal level, many employees used the change as a catalyst to take advantage of the free smoking cessation program, said Mixon.

"We've been successful in helping people transform their lives. That's been exciting to see."

Challenges remain, particularly in respecting MUSC's neighboring businesses and residences. Mixon said the tobacco-free initiative takes the cooperation of all employees to be successful.

"While we have experienced much success in the transition, we have noted that some smokers have sought areas to smoke that can affect others, especially our visitors and patients as they come and go into our facilities. In that this is a cooperative effort, we would ask those who choose to smoke around the campus to find public areas that are not highly visible, that do not intrude on businesses or create corridors where non-smokers must walk through second-hand smoke to get to their destinations."

MUSC and Roper Hospital officials have met with city officials to discuss the possibility of the city creating a tobacco-free zone around medical facilities in the City of Charleston. In the meantime, Johnson said the goal is to remind employees who smoke in public areas around the hospital to be courteous to neighbors and visitors.

"We ask that employees smoking in these areas be mindful that they are wearing hospital badges and are a symbol of MUSC in that respect. It's important to be courteous and dispose of butts responsibly. We appreciate the cooperation in continuing to make this a positive change for MUSC and for the city."

To share comments or suggestions about MUSC's tobacco-free campus policy, contact Johnson at johnsusa@musc.edu or call 792-1245.

Visit the website at http://academicdepartments.musc.edu/tobaccofree/.

Litter Facts

Cigarette butts are the most littered item in the world with trillions littered each year. An estimated 2 million are littered in Charleston annually.
Cigarette litter represents more than 20 percent of all litter collected in community cleanup initiatives within the U.S.
Cigarette filters are not cotton. They are cellulose acetate (aka plastic) and they stay in the environment for a minimum of five years and in some cases they never degrade.
Cigarette butts are harmful to children, pets and the environment. Research shows that the butts are toxic, including a San Diego State University study showing that one butt has enough poisons to kill half the minnows in a liter of water – a standard laboratory test for toxins – in 96 hours.
Cleaning up cigarette litter in Charleston costs nearly $100,000 a year.
Information from Keep Charleston Beautiful and San Diego State University