by Cindy Abole
Public Relations

MUSC Children's Hospital newcomer J. Antonio Quiros, M.D., learned his passion for medicine early on.

Quiros is a fourth-generation physician and saw the value of caring for others at his grandfather's free clinic in Central America. Quiros completed his medical education in Costa Rica in 1993. "I love medicine. It's not hard to spend time doing something if you love what you're doing."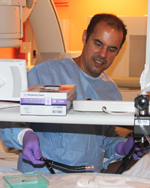 Pediatric GI Chief Dr. J. Antonio Quiros joined the team in July. Quiros was recruited to MUSC to help with the expansion and development of the Children's Hospital's pediatric GI programs. To view a video on Quiros, visit
http://bit.ly/DrQuiros. For information on pediatric gastroenterology, visit http://www.musckids.com/gi/index.htm or call 792-1414.

He finished his residency in Pediatrics and International Health at Case Western Reserve University in Cleveland and then went on to work in the international health arena at Johns Hopkins School of Public Health in Baltimore. With an interest in gastroenterology (GI), he completed a Pediatric GI and Nutrition fellowship at the Children's Hospital Los Angelese and LAC-USC Medical Center in Los Angeles.

Quiros spent time conducting basic science research focusing on pediatric inflammatory bowel disease with an emphasis on therapy and intestinal microbiota at the University of California.

Quiro's love for patient care led him to refocus on his clinical work. He was attracted to endoscopy because of its need for manual skills; Quiros likes to keep his hands busy. In 2004 to 2005, he completed advanced training in adult therapeutic endoscopy at Stanford University Hospital. He was able to combine his background in pediatrics with his endoscopy skills. He then moved on to serve as division chief of pediatric gastroenterology and nutrition at California Pacific Medical in San Francisco.

Quiros was recruited to help with the expansion and development of the pediatric GI programs. Joining him are wife, Claudia, and children, Felix and Paulina. Quiros and his family are anxious to settle in and see what Lowcountry life has to offer.