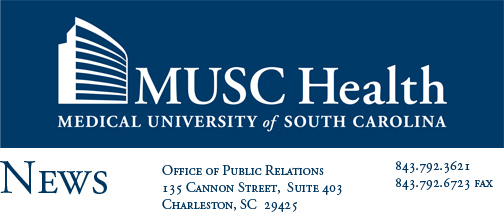 Contact: Heather Woolwine
843.792.7669
woolwinh@musc.edu

March 13, 2008
MUSC Providing Charleston Battery With Health Services
Players to receive sports medicine, nutrition counseling, other services
CHARLESTON -- The Charleston Battery has announced that MUSC Sports Medicine will now serve as the sports medicine provider for the soccer team. Traditionally, sports medicine provided to professional teams focuses on treatment of injuries, strength and conditioning, and physical therapy. MUSC and the Battery are taking a more inclusive approach to players' health, including traditional elements of sports medicine along with nutrition counseling and access to a sports psychologist and sports neurologist. MUSC Sports Medicine will also institute an injury prevention program involving a daily exercise regimen to decrease the incidence of a variety of lower-extremity injuries that are common in soccer and other contact sports.
"The partnership between MUSC Sports Medicine and the Charleston Battery will be extremely beneficial to both organizations. These are the most skilled, elite athletes in the area, and they deserve state-of-the-art injury assessments, treatments, rehabilitation, and prevention," said David Geier, M.D., head Battery physician and MUSC Sports Medicine director.
State-of-the-art care is defined by a team approach, and while some aspects of the health information players receive might be new with this contract, the concept of working as a team is well understood.
"It's great to join forces with the MUSC team; I've been working very closely with Dr. David Geier over the last few weeks and he has been excellent. Our new athletic trainer David Lagow has also been working very hard as we build up together through our pre-season towards our first game," said Michael Anhaeuser, Battery head coach.
Geier will be present at all home games to evaluate on-field injuries. Physical therapist Michael J. Barr will serve as rehabilitative and injury prevention coordinator. David E. Lagow will serve as the Battery's athletic trainer, providing on-field and training room athletic trainer services to the team both at home and on the road. Peter Carek, M.D., will act as the medical physician for the team. Registered dietician Greer Gowen will serve as the Battery's sports nutritionist and will meet with the team's chef and players to help evaluate nutritional requirements and typical food choices in order to make healthy changes that optimize performance on the field. Jonathan Edwards, M.D., will serve as the team's sports neurologist and concussion expert. Geoffrey P.Cheek will serve as the team's sport psychologist, and Bobby Weisenberger will assist with the team's strength and conditioning training. In addition to the health care partnership, the Battery will be working with MUSC to develop community service activities for the players.
The Charleston Battery kicks off its pre-season schedule Saturday with the 2008 Carolina Challenge Cup. The tournament takes place at Blackbaud Stadium March 15, 19 and 22, and features Major League Soccer's New York Red Bulls, Toronto FC, the San Jose Earthquakes and the USL1 Charleston Battery. For tickets or more information call (843) 971-GOAL or visit www.charlestonbattery.com
About MUSC
Founded in 1824 in Charleston, The Medical University of South Carolina is the oldest medical school in the South. Today, MUSC continues the tradition of excellence in education, research, and patient care. MUSC educates and trains more than 3,000 students and residents, and has nearly 11,000 employees, including 1,500 faculty members. As the largest non-federal employer in Charleston, the university and its affiliates have collective annual budgets in excess of $1.6 billion. MUSC operates a 750-bed medical center, which includes a nationally recognized Children's Hospital and a leading Institute of Psychiatry. For more information on academic information or clinical services, visit www.musc.edu or www.muschealth.com.
#####