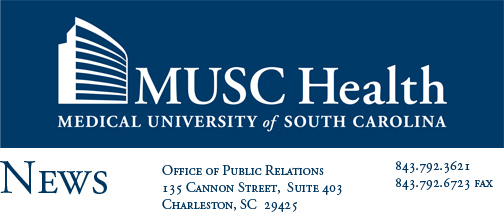 Contact:
Heather Woolwine
843.792.7669
woolwinh@musc.edu


July 15, 2010
MUSC ranks in annual edition of America's Best Hospitals
U.S. News & World Report ranks Gastroenterology, Ear/Nose/Throat, Kidney Disorders, Orthopedics, Gynecology and Rheumatology programs
CHARLESTON -- The Medical University of South Carolina (MUSC) has been named by U.S. News & World Report as one of the country's best hospitals in the treatment of gastrointestinal disorders, ear/nose/throat disorders, kidney disorders, gynecologic disorders, orthopedics and rheumatology. This marks the 14th consecutive year that gastrointestinal disorders has made the list. The rankings will be published in the August issue of the magazine that will appear on newsstands July 27.
"We are pleased that the outstanding care delivered by the faculty and staff of MUSC is garnering such national attention," said MUSC President Ray Greenberg, M.D., Ph.D. "All South Carolinians can be reassured by the high quality of services being delivered at our hospital and through graduates of our training programs throughout the state."
Since 1990, the magazine has identified medical centers with unique capabilities in one or more areas. This year, the exclusive magazine reviewed data from 4,852 hospitals and selected 152 stellar medical centers in 16 specialty areas. Rankings and eligibility are driven by hard data, including reputation, death rate, patient safety, and care-related factors such as nursing and patient services. This year's rankings may be viewed at www.usnews.com/besthospitals.
Highlights from this year's rankings include:
• Gastrointestinal Disorders ranks for 14th consecutive year
• Orthopedics ranks for the first time
• Rheumatology's reputation continues to earn high marks, moving up two slots
About MUSC
Founded in 1824 in Charleston, The Medical University of South Carolina is the oldest medical school in the South. Today, MUSC continues the tradition of excellence in education, research, and patient care. MUSC educates and trains more than 3,000 students and residents, and has nearly 11,000 employees, including 1,500 faculty members. As the largest non-federal employer in Charleston, the university and its affiliates have collective annual budgets in excess of $1.7 billion. MUSC operates a 750-bed medical center, which includes a nationally recognized Children's Hospital, the Ashley River Tower (cardiovascular, digestive disease, and surgical oncology), and a leading Institute of Psychiatry. For more information on academic information or clinical services, visit www.musc.edu or www.muschealth.com.
#####