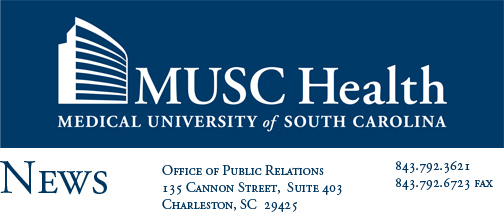 Contact:
Maggie Mullen
843.792.9717
mullem@musc.edu


Oct. 29, 2009
MUSC nurses listed in 'America's Best Hospitals'
Annual U.S. News & World Report rankings cite best hospitals for nursing care
CHARLESTON -- MUSC Hospital has been ranked as one of the best in nursing care in the U.S. News Media Group's 2008 edition of America's Best Hospitals, published online at www.usnews.com/articles/health/best-hospitals/2009/10/20/which-best-hospitals-have-great-and-not-so-great-nurses.
"As a hospitalist who sees patients at MUSC and as an administrator who works with MUSC nurses everyday, I already knew we have some of the best nurses in the country, but it is always great to see external validation," said Patrick Cawley, M.D., MUSC executive medical director.
Patient satisfaction survey results for the year ending December 2008 showed which hospitals have "great and not so great nurses." Hospitals were ranked by the highest percentages of patients who said their nurses were always courteous, listened carefully, and gave clear explanations.
"I am thrilled that our excellent nurses are being recognized," said Marilyn Schaffner, PhD, administrator for clinical services and chief nursing executive. "This is a huge tribute to our gifted nurses who give of themselves every day providing compassionate patient care throughout MUSC."
Of patients surveyed, 78 percent said MUSC's nurses were always polite and communicative. The results for the top 10 percent of hospitals ranged between 82 and 78 percent with the average of all reporting hospitals at 74 percent.
About MUSC
Founded in 1824 in Charleston, The Medical University of South Carolina is the oldest medical school in the South. Today, MUSC continues the tradition of excellence in education, research, and patient care. MUSC educates and trains more than 3,000 students and residents, and has nearly 10,000 employees, including 1,300 faculty members. As the largest non-federal employer in Charleston, the university and its affiliates have collective annual budgets in excess of $1.3 billion. MUSC operates a 600-bed medical center, which includes a nationally recognized Children's Hospital and a leading Institute of Psychiatry. For more information on academic information or clinical services, visit www.musc.edu or www.muschealth.com.
#####