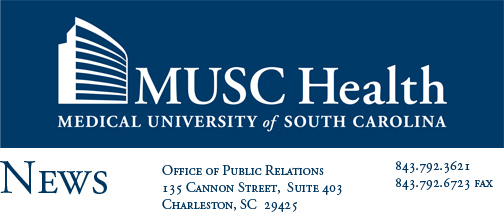 Contact:
Maggie Diebolt
843.792.5021
dieboltm@musc.edu


July 23, 2008
Cawley To Lead Hospital Medicine Organization
CHARLESTON -- The Society of Hospital Medicine (SHM) announced that Patrick J. Cawley, M.D. has taken office as President of SHM for the 2008-2009 term. Cawley currently serves as the Executive Medical Director at the Medical University of South Carolina (MUSC) Medical Center.
"The hospital medicine movement as a whole will greatly benefit from Dr. Cawley's stewardship of SHM over this coming year," said Larry Wellikson, M.D., SHM's CEO. "His commitment to hospital medicine makes him a dynamic choice at an important time in the history of our specialty."
Cawley is a charter member of SHM and has served on the Ethics Committee, as the chair for the current Benchmarks Task Force and as the previous Treasurer for the Board of Directors. He also is currently a member of the Public Policy Committee.
"In the spirit of SHM, I look to continue and expand the growing influence of hospitalists in public policy and advocacy," Cawley said. "I also feel that by encouraging partnerships between hospitalists and hospital leaders, there will be an increased ability to significantly change how health care is delivered; pushing the hospitalist movement even further."
Cawley received his medical degree from Georgetown University School of Medicine and trained as a resident at Duke University Medical Center, where he also served as an Assistant Chief Resident. He also has been a contributing writer for The Hospitalist and several other journals and books.
SHM is the premier medical society representing hospitalists. Over the past decade, research studies proving that hospitalists decrease patient lengths of stay, hospital costs and patient mortality rates while increasing patient satisfaction, have galvanized the hospital medicine profession and spurred demand for hospitalists nationwide. Currently, hospital medicine is the fastest-growing medical specialty in the U.S., with over 20,000 hospitalists today and is projected to grow to about 30,000 by the end of the decade. For more information about SHM, visit www.hospitalmedicine.org .
About MUSC
Founded in 1824 in Charleston, The Medical University of South Carolina is the oldest medical school in the South. Today, MUSC continues the tradition of excellence in education, research, and patient care. MUSC educates and trains more than 3,000 students and residents, and has nearly 10,000 employees, including 1,300 faculty members. As the largest non-federal employer in Charleston, the university and its affiliates have collective annual budgets in excess of $1.3 billion. MUSC operates a 600-bed medical center, which includes a nationally recognized Children's Hospital and a leading Institute of Psychiatry. For more information on academic information or clinical services, visit www.musc.edu or www.muschealth.com.
#####