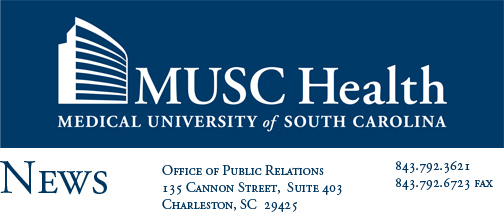 Contact: Maggie Diebolt

843.792.5021

dieboltm@musc.edu

Feb. 20, 2008
MUSC's epilepsy program among select centers participating in pivotal clinical trial
CHARLESTON -- More than 3 million people in the United States, including an estimated 55,000 to 65,000 South Carolina residents, have epilepsy. In an effort to discover a more effective means of therapy and improve the lives of people with epilepsy, the Medical University of South Carolina (MUSC) is participating in the RNS™ System Pivotal clinical trial, a study to evaluate the safety and effectiveness of a responsive brain stimulation device in reducing the frequency of uncontrolled seizures.
Epilepsy is a medical condition in which there is an underlying tendency of the brain to produce sudden bursts of electrical energy that disrupt other brain functions, resulting in seizures that can affect a variety of mental and physical functions. While medications and other therapies developed in recent years have improved the health status and quality of life of those with epilepsy, approximately 30 to 40 percent of those individuals continue to suffer from seizures uncontrollable by such methods.
The RNS™ system is an implantable device designed to detect abnormal electrical activity in the brain and deliver small amounts of electrical stimulation in response, with the intention of suppressing the seizure before any symptoms occur. It is placed within the skull and beneath the scalp by a surgeon. Early experience with the RNS system in 65 adults with medically uncontrolled epilepsy indicated that the device has a favorable safety profile.
"This is an exciting trial. The device not only reads EEG information directly from the brain of a person with epilepsy, it can also be taught to recognize an individual patient's characteristic seizure pattern, and to deliver a stimulus to try to stop the seizure. This may lead to a completely new way of treating seizures directly at the source," said Jonathan Edwards, M.D., Epilepsy Program director.
With epilepsy experts scattered across the state, access to specialized care can be difficult to find. As the only center in South Carolina recognized by the National Association of Epilepsy Centers, as well as the only program in the state participating in the RNS™ study, MUSC's comprehensive epilepsy program features a system for assessing mood disorders in patients, social workers and vocational rehab, five epileptologists, a neuroradiologist, and ongoing research programs and clinical trials.
MUSC features a level 4 Comprehensive Epilepsy Center, meeting or exceeding all guidelines set by the National Association of Epilepsy Centers for this highest category. Level 4 indicates extensive expertise and truly comprehensive care in the medical, social, psychological and surgical treatment of epilepsy.
Steven Glazier, M.D., chief of Neurosurgery and director of Pediatric Neurosurgey, is an experienced and accomplished epilepsy neurosurgeon. "This is the first device for the brain that reacts to the brain and delivers therapy when needed. All other brain stimulators deliver treatment at a prescribed interval," Glazier said. "This idea of a specific treatment of epilepsy is exciting and offers great hope for patients who are not candidates for resective surgery."
People with epilepsy that experience uncontrolled seizures - those that occur three or more times a month - should call 1-866-904-6630 or visit www.seizurestudy.com to be evaluated to determine if they are a candidate for the RNS System Pivotal Clinical Investigation. Final determination regarding eligibility for the clinical research study is made by the clinical research study staff.
About MUSC
Founded in 1824 in Charleston, The Medical University of South Carolina is the oldest medical school in the South. Today, MUSC continues the tradition of excellence in education, research, and patient care. MUSC educates and trains more than 3,000 students and residents, and has nearly 10,000 employees, including 1,300 faculty members. As the largest non-federal employer in Charleston, the university and its affiliates have collective annual budgets in excess of $1.3 billion. MUSC operates a 600-bed medical center, which includes a nationally recognized Children's Hospital and a leading Institute of Psychiatry. For more information on academic information or clinical services, visit www.musc.edu or www.muschealth.com.

About Neuropace, Inc.
NeuroPace was founded to design, develop, manufacture and market implantable devices for the treatment of neurological disorders by responsive brain stimulation. The company's initial focus is the treatment of epilepsy, a debilitating neurological disorder affecting approximately 1% of the population worldwide. In addition to treating epilepsy, responsive neurostimulation holds the promise of treating several other disabling medical disorders that impact the quality of life for millions of patients around the world.
#####