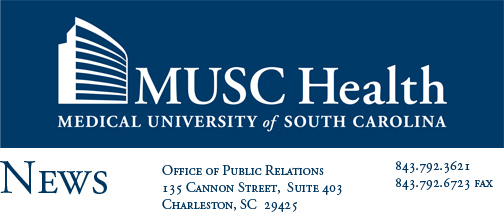 Contact:
Kerri Glover
843.792.3652
gloverk@musc.edu


April 23, 2010
MUSC Staging 4th annual Women's Heart Health Symposium April 24
Specialists to talk on warning signs, risk factors and prevention of heart disease and stroke
CHARLESTON -- True or false? More American women die of cancer than heart disease.
The correct answer is "false." Heart disease is by far the nation's leading killer of women. Nearly twice as many women in the United States die of heart disease, stroke and other cardiovascular diseases as from all forms of cancer, including breast cancer, according to the American Heart Association. Unfortunately, more women than men also die from a first heart attack or stroke.
The disproportionate impact of cardiovascular disease on women prompted Charleston resident Bev Seinsheimer to team up with MUSC Women's Heart Care physicians in 2007 to found the annual Women's Heart Health Symposium. The 4th annual event is scheduled from 9 a.m. to 3 p.m. on Saturday, April 24, at the Gaillard Municipal Auditorium in downtown Charleston.
A former cardiac surgery nurse, Seinsheimer said she was inspired to create a symposium for Lowcountry women after seeing a presentation six years ago by Dr. Pamela B. Morris, a MUSC preventive cardiologist who directs the Seinsheimer Cardiovascular Health Program. Morris and Dr. Marian H. Taylor also are co-directors of the MUSC Women's Heart Care program, which sponsors the symposium
"It was so clear to me that something had to be done to educate more women about heart disease," said Seinsheimer, who serves as symposium co-chair with Sigrid Laughlin. "Women in particular need to know their risk factors, warning signs and treatment options. The good news is that most cardiovascular disease is preventable – if everyone practiced prevention, we could prevent 63 percent of heart attacks and 31 percent of strokes."
This year's symposium will feature talks by MUSC physicians, instruction in nutrition and exercise, and an inspiring keynote address by Heather Perram Frank of Jump Strategies. Frank's talk, titled "Me-Hab: Living Your Life with Joy, Purpose and Energy," will focus on the importance of women putting themselves first and trends in women's media, health and wellness. Frank also was recently named general manager of Health and Wellness Content for USA Today and usatoday.com.
Other program highlights include:
• Dr. Jan Basile – Understanding hypertension in women
• Dr. Pamela B. Morris – New tests to identify heart attack risks in women
• Dr. Marian H. Taylor – Exercise and a woman's heart
• Dr. Tanya Turan – Stroke symptoms and risk in women
• Dr. Daniel Steinberg – Coronary stents in women
• Kellie McLain, ANP, Clinical Lipid Specialist – Lowering cholesterol
• Amy Mendez, RD, LD, MPH – Sodium and a woman's heart
The program also will feature performance and instruction in Zumba Fitness and Marine Boot Camp, a Go Red fashion show showcasing red fashions from local clothiers, shopping with a selection of local vendors, and a raffle for prizes donated by local merchants.
Admission to the Women's Heart Health Symposium is free and all attendees will receive a heart healthy lunch and free parking in the Gaillard garage. However, registration is required and space is limited. To make a reservation, visit www.MUSChealth.com/whhs or call (843) 792-1616 between 8:30 a.m. and 5 p.m., Monday through Friday.
The Women's Heart Health Symposium is co-sponsored by the American Heart Association's Go Red for Women campaign and Blue Cross Blue Shield. MUSC is the exclusive Lowcountry sponsor of the Go Red For Women campaign, a nationwide movement that encourages women to care for their hearts by leading healthy lives and knowing the risk factors for heart disease.
Blue Cross Blue Shield also has helped underwrite the cost of the Symposium since its inception.
Editor's Note: Keynote speaker Heather Perram Frank will speak at 9:15 a.m. Saturday. She is available for interviews by phone on Friday or on site after her talk.
###
About MUSC
Founded in 1824 in Charleston, The Medical University of South Carolina is the oldest medical school in the South. Today, MUSC continues the tradition of excellence in education, research, and patient care. MUSC educates and trains more than 3,000 students and residents, and has nearly 11,000 employees, including 1,500 faculty members. As the largest non-federal employer in Charleston, the university and its affiliates have collective annual budgets in excess of $1.7 billion. MUSC operates a 750-bed medical center, which includes a nationally recognized Children's Hospital, the Ashley River Tower (cardiovascular, digestive disease, and surgical oncology), and a leading Institute of Psychiatry. For more information on academic information or clinical services, visit www.musc.edu or www.muschealth.com.
#####