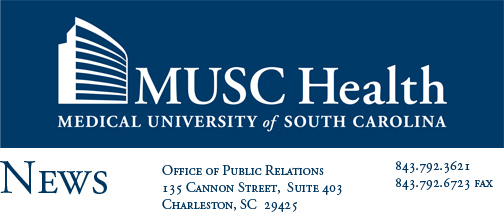 Contact:
Tony Ciuffo
843.792.2626
ciuffo@musc.edu


Feb. 25, 2010
MUSC, Georgetown Hospital System expand partnership
CHARLESTON -- Building upon a well-established history of collaboration, Georgetown Hospital System (GHS) and Medical University of South Carolina (MUSC) have announced a new strategic affiliation agreement that will expand local access to medical services, expertise and clinical support offered by MUSC.
An unwavering commitment to providing high quality, value-driven health care services is the basis for developing this agreement, said Bruce P. Bailey, CEO of Georgetown Hospital System. "This relationship provides an ideal situation for our community. By combining the strengths of our medical staff and hospital employees, facilities and existing services with those afforded by an organization with the established reputation and well-known expertise of MUSC, local residents have additional access to expanded medical services without leaving the community," he said. "We are very enthusiastic about exploring the many possibilities provided by this relationship."
MUSC president Ray Greenberg, M.D., Ph.D., echoed Bailey's thoughts. "The Medical University has had a mutually supportive relationship with Georgetown Hospital System for many years. The new partnership will take these collaborations to a new level by combining the strengths of both institutions to better serve our patients."
According to the newly executed agreement, local patients will benefit from a wide variety of MUSC medical specialty consultation services as a result of a telecommunications system that links the two organizations. Enhanced opportunities for participation in clinical trials and research, as well as training opportunities for MUSC residents and medical students, are other benefits.
For sometime, Georgetown area residents have benefited from existing collaborations with MUSC. One such agreement in existence since the opening of Georgetown Hospital System's Francis B. Ford Cancer Treatment Center allows local residents to receive radiation therapy services without leaving the community. Another such partnership provides access to telestroke services through the REACH program. Georgetown Hospital System also announced plans to seek a certificate of need to bring cardiothoracic surgical services to Georgetown County through a relationship with MUSC cardiology specialists.

About Georgetown Hospital System Georgetown Hospital System is a private, not-for-profit entity, serving the healthcare needs of Georgetown and surrounding counties since 1950. The organization includes Georgetown Memorial Hospital, Waccamaw Community Hospital, numerous outpatient service and clinic sites, a health and fitness center and a cancer treatment center. For more information about Georgetown Hospital System please visit our website at www.GeorgetownHospitalSystem.org.
About MUSC
Founded in 1824 in Charleston, The Medical University of South Carolina is the oldest medical school in the South. Today, MUSC continues the tradition of excellence in education, research, and patient care. MUSC educates and trains more than 3,000 students and residents, and has nearly 10,000 employees, including 1,300 faculty members. As the largest non-federal employer in Charleston, the university and its affiliates have collective annual budgets in excess of $1.3 billion. MUSC operates a 600-bed medical center, which includes a nationally recognized Children's Hospital and a leading Institute of Psychiatry. For more information on academic information or clinical services, visit www.musc.edu or www.muschealth.com.
#####