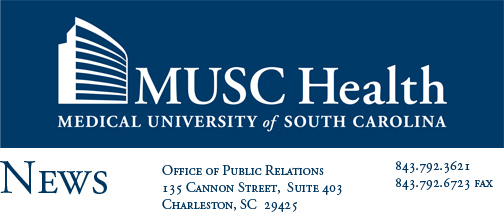 Contact: Kathleen Ellis
Office: 843.792.5602
Cellular: 843.696.1506
ellisk@musc.edu


July 14, 2008
MUSC Ranks in US News & World Report's Annual Hospital Survey
Publication cites Gastrointestinal, Nephrology and Rheumatology services
CHARLESTON -- The Medical University of South Carolina (MUSC) has been named by U.S. News & World Report as one of the country's best hospitals in the treatment of gastrointestinal disorders, kidney disease and rheumatology. This marks the 12th consecutive year that gastrointestinal disorders has made the list. The rankings will be published in the July 23 issue of the magazine that appeared on newsstands July 14. MUSC was the only hospital in South Carolina to be ranked.
"We are very pleased with this independent confirmation that the Medical University of South Carolina is one of the leading hospitals in the country," said MUSC President Ray Greenberg, M.D., Ph.D. "As the only South Carolina hospital to achieve this national status, MUSC plays a leadership role in bringing state-of-the-art health care to the citizens of our state. We look forward to the opportunity to build further upon the existing strengths of this institution."
Since 1990, the magazine has identified medical centers with unique capabilities in specific clinical specialties. This year, the magazine reviewed data from 5,453 hospitals and selected 170 medical centers in 16 specialty areas. Rankings and eligibility may be viewed at www.usnews.com.
Gastrointestinal Disorders ranks 19th in the nation
• Includes the MUSC Digestive Disease Center (DDC), the Division of Gastroenterology in the Department of Medicine and the Department of Surgery
• Mark Payne, M.D., Gastroenterology and Hepatology director, said, "The gastrointestinal physicians and health care staff of MUSC are very gratified to be recognized for our expertise and experience in the treatment of digestive disorders by the prestigious US News rankings."
• Mark DeLegge, M.D., MUSC DDC medical director, said, "The Digestive Disease Center is committed to excellence through innovation and a patient focused approach to clinical care. As a team approach to digestive disease, it doesn't get any better than MUSC."
• David Cole, M.D., McKoy Rose Professor and Chairman MUSC Department of Surgery, said, "The US News and World Report ranking of the our gastrointestinal disorders related programs as No. 19 in the nation is a result of having an outstanding team of patient focused caregivers dedicated to providing the best care possible to our GI patients. This reflects the type of excellent care being offered across the board to our patients at MUSC."
Kidney Disease ranks for the first time
• MUSC Nephrology marks its first appearance within the best hospital rankings
• David Ploth, M.D., Nephrology director, said, "All of the division faculty deserve congratulations. Our basic science faculty contribute as well by enhancing our national academic image. It is outstanding that we finally achieved being included on the list. The competition is very strong, and among the same group of excellent institutions that we compete with for fellow trainees and grant funding."
Rheumatology's reputation earns high marks
• In a special category based solely on national reputation, MUSC's Rheumatology division placed 19th.
• Richard M. Silver, M.D., Distinguished University Professor and director of the division said, "Our physicians and scientists have garnered an international reputation for their work on scleroderma, lupus and other rheumatic diseases, so to rank No. 19 on the US News & World Report's list is a credit to them. It is gratifying to be recognized by one's peers for the expertise we provide in caring for patients with the most serious or difficult medical problems associated with rheumatology."
About MUSC
Founded in 1824 in Charleston, The Medical University of South Carolina is the oldest medical school in the South. Today, MUSC continues the tradition of excellence in education, research, and patient care. MUSC educates and trains more than 3,000 students and residents, and has nearly 10,000 employees, including 1,300 faculty members. As the largest non-federal employer in Charleston, the university and its affiliates have collective annual budgets in excess of $1.3 billion. MUSC operates a 600-bed medical center, which includes a nationally recognized Children's Hospital and a leading Institute of Psychiatry. For more information on academic information or clinical services, visit www.musc.edu or www.muschealth.com.
#####