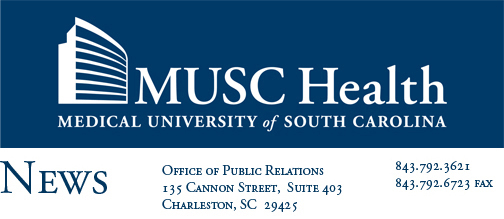 Contact:
Heather Woolwine
843.792.7669
woolwinh@musc.edu


Jan. 30, 2012
MUSC trauma program first in state to receive confirmation
American College of Surgeons verifies program at highest national level
CHARLESTON -- After an extensive review by the American College of Surgeons (ACS), the Medical University of South Carolina (MUSC) trauma program has been verified as a Level 1 Trauma Center. This verification is the highest level any trauma program in the country can achieve. MUSC is the first hospital in South Carolina to achieve this rating.
"In fact, our Level 1 Trauma Program is the only one in the state to have received national trauma verification at any level," said Bruce Crookes, MD, MUSC associate professor and trauma medical director. "Achieving this recognition required total commitment from the entire hospital, and it means our patients can expect the highest level of care available at any time, day or night."
The ACS Level 1 verification differs from the status designated by the state of South Carolina. The actual establishment and designation of trauma centers is the function of local, regional, or state agencies. ACS verification provides confirmation that a hospital has demonstrated the ability to provide the highest quality trauma care. The process requires an on-site review by a team of ACS surgeons and a verification committee review. Only after meeting hundreds of demanding criteria is a hospital awarded this distinction. ACS surveyors found no deficiencies in MUSCís trauma program when visiting in Nov. 2011.
MUSCís trauma team is staffed around the clock, led by a trauma surgeon with board certification in both surgery and surgical critical care, and a team of highly trained personnel from the emergency room, operating room, intensive care, radiology, blood bank and respiratory therapy. Physicians from more than 10 specialties are all immediately available. MUSC treats approximately 2,100 trauma patients each year and participates in trauma-related research, community outreach and education, and injury prevention activities.
"MUSC is prepared 24 hours a day, 365 days a year to offer immediate care for life and limb-threatening injuries," said Crookes. "We provide trauma patients with instant access to the most advanced technology, surgical suites and critical care services, which can make all the difference in saving lives and decreasing disabilities."
A study in the New England Journal of Medicine showed that patients treated at Level 1 trauma centers fare significantly better than those with comparable injuries who are treated at non-trauma centers. Findings showed Level 1 trauma centers can lower the risk of death for severely injured patients by 25 percent.
"The closest hospital with an emergency room may not be the best place to take a trauma patient. For a seriously injured patient, transport to a Level 1 center such as MUSC can increase his or her chances at survival," said Crookes.
About MUSC Founded in 1824 in Charleston, The Medical University of South Carolina is the oldest medical school in the South. Today, MUSC continues the tradition of excellence in education, research, and patient care. MUSC educates and trains more than 3,000 students and residents, and has nearly 13,000 employees, including approximately 1,500 faculty members. As the largest non-federal employer in Charleston, the university and its affiliates have collective annual budgets in excess of $1.7 billion. MUSC operates a 750-bed medical center, which includes a nationally recognized Children's Hospital, the Ashley River Tower (cardiovascular, digestive disease, and surgical oncology), and a leading Institute of Psychiatry. For more information on academic information or clinical services, visit www.musc.edu. For more information on hospital patient services, visit www.muschealth.com.
About ACS
The American College of Surgeons is a scientific and educational association of surgeons founded in 1913 to raise standards of surgical education and practice, and improve the care of surgical patients. It has more than 72,000 members and is the largest association of surgeons in the world. Longstanding achievements have placed the ACS in the forefront of American surgery and have made it an important advocate for all surgical patients. Established by the American College of Surgeons in 1987, the COT's Consultation/Verification Program for Hospitals promotes the development of trauma centers in which participants provide not only the hospital resources necessary for trauma care, but also the entire spectrum of care to address the needs of all injured patients. For more information about ACS, visit http://www.facs.org/.
#####