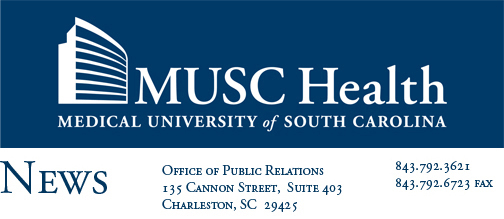 Contact:
Megan Fink
843.792.5172
finkm@musc.edu


July, 2011
MUSC researcher finds technology kills bacteria linked to hospital infections
Study results presented at recent World Health Organization conference
CHARLESTON – Early results from a multi-site clinical trial demonstrate that the use of antimicrobial copper surfaces in intensive care unit (ICU) rooms caused a 97 percent reduction of bacteria that cause hospital-acquired infections. Results were presented at the World Health Organization's 1st International Conference on Prevention and Infection Control (ICPIC) in Geneva on July 1.
The study, funded by the U.S. Department of Defense, was designed to determine the efficacy of antimicrobial copper in reducing the level of pathogens in hospital rooms. The CDC estimates that in the U.S., hospital acquired infections kill 100,000 people and cost $45 billion annually.
"Bacteria present on ICU room surfaces are probably responsible for 35 — 80 percent of patient infections, demonstrating how critical it is to keep hospitals clean," said Dr. Michael Schmidt, professor and vice chairman of Microbiology and Immunology at MUSC, who presented the results at ICPIC. "The copper objects used in the clinical trial lowered microbial levels and supplemented cleaning protocols."
Researchers at the three hospitals involved, including the MUSC and the Ralph H. Johnson VA Medical Center, replaced commonly touched items, such as bed rails, overbed tray tables, nurse call buttons and IV poles, with antimicrobial copper versions.
About MUSC
Founded in 1824 in Charleston, The Medical University of South Carolina is the oldest medical school in the South. Today, MUSC continues the tradition of excellence in education, research, and patient care. MUSC educates and trains more than 3,000 students and residents, and has nearly 11,000 employees, including 1,500 faculty members. As the largest non-federal employer in Charleston, the university and its affiliates have collective annual budgets in excess of $1.7 billion. MUSC operates a 750-bed medical center, which includes a nationally recognized Children's Hospital, the Ashley River Tower (cardiovascular, digestive disease, and surgical oncology), and a leading Institute of Psychiatry. For more information on academic information or clinical services, visit www.musc.edu or www.muschealth.com.
#####