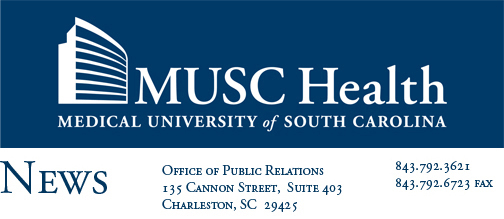 Contact:
Heather Woolwine
843.792.7669
woolwinh@musc.edu


March 1, 2012
MUSC gets Golden Apple for improving health of employees
Working Well targets patients, students and employees for healthier eating
CHARLESTON -- The South Carolina Hospital Association (SCHA) and NC Prevention Partners have recognized the Medical University of South Carolina (MUSC) for providing the highest standard of excellence for healthy food environments offered to employees, patients and visitors.
Hospitals receiving this acknowledgment are considered Gold Apple Hospitals as part of the Working Well initiative. MUSC joins three other South Carolina hospitals in receiving the award. Working Well is an effort to improve the health of hospital employees across the state of South Carolina by creating worksite wellness environments where the healthy choice is the easy choice.
Jen Wright, Working Well manager, praised MUSC's efforts. "Already recognized as a Working Well Center of Excellence, MUSC is once again proving their leadership in employee wellness. This initiative and the Gold Apple recognition aren't about taking away options; they're about eliminating excuses and making it easier to choose health. MUSC has done this by providing increased access to healthy food while taking away the economic burden by making the healthy choice the less expensive one."
Working Well is funded by The Duke Endowment, based on NC Prevention Partners' model for effective worksite wellness programs in North Carolina, and is managed by SCHA. Susan Johnson, Ph.D., MUSC wellness program coordinator, said the award shows that MUSC sets access to healthy food as a priority. "As a center of excellence and Gold Apple recipient, we are held accountable for not only meeting the highest standards set forth by the Working Well project, but also sharing our successes and experiences with others."
MUSC addressed how it provides, prices and markets healthy food options by:
•Working with Sodexho to provide healthy options at every station and to post nutrition information for all items in the cafeteria
•Having fresh, local produce available through weekly farmers markets, as well as delivery of local food/produce through Community Supported Agriculture programs
•Installing vending machines serving only all-natural, organic and preservative-free items in several buildings on campus
•Featuring a "traffic lite" system to identify healthy choices in existing vending machines
•Adding a 5 cent surcharge to unhealthy items in existing vending machines, with proceeds benefiting the MUSC Heart Health pediatric weight management program, part of the Boeing Center for Children's Wellness.
MUSC President Ray Greenberg, M.D., Ph.D., said he appreciates the recognition and looks forward to expanding wellness and health promotion beyond campus. "As a leader in health education in South Carolina, we feel a responsibility to create an environment in which people can learn about and pursue healthy eating."
Newsletters, weekly columns in MUSC's newspaper The Catalyst, daily broadcast message tips and Facebook provide information on healthy eating and special events on a consistent basis. Special events include live cooking demonstrations and "eat this, learn that" lunch and learn sessions. Coming this spring, a new MUSC Community Garden will serve as a living classroom where a variety of fruits, vegetables, and herbs grown in South Carolina will be harvested for use by staff, faculty and the community. MUSC's Nutrition Services website also offers educational resources and teaching opportunities to faculty and staff (http://www.muschealth.com/nutrition/index.htm).
Johnson said the award represents an important shift in attitude. "I believe that what will sustain this effort is the cultural change that we are creating throughout the organization. My hope is that as this shift continues, making healthy choices and eating fresh, local food will become the norm, not the exception."
About MUSC
Founded in 1824 in Charleston, The Medical University of South Carolina is the oldest medical school in the South. Today, MUSC continues the tradition of excellence in education, research, and patient care. MUSC educates and trains more than 3,000 students and residents, and has nearly 13,000 employees, including approximately 1,500 faculty members. As the largest non-federal employer in Charleston, the university and its affiliates have collective annual budgets in excess of $1.7 billion. MUSC operates a 750-bed medical center, which includes a nationally recognized Children's Hospital, the Ashley River Tower (cardiovascular, digestive disease, and surgical oncology), and a leading Institute of Psychiatry. For more information on academic information or clinical services, visit www.musc.edu. For more information on hospital patient services, visit www.muschealth.com.
About NC Prevention Partners
NC Prevention Partners is a leader in reducing preventable illness and early death in North Carolina caused by tobacco use, poor nutrition, physical inactivity and obesity. We helped North Carolina's acute care hospitals go 100% tobacco free campus wide. We help employers create healthier workplaces, reduce costs and increase use of preventive health insurance benefits. Our mission as a non-profit is "Prevention first for a healthier North Carolina." www.ncpreventionpartners.org
About the South Carolina Hospital Association
Founded in 1921, the South Carolina Hospital Association is the leadership organization and principal advocate for the state's hospitals and health care systems. Based in Columbia, SCHA works with its members to improve access, quality and cost-effectiveness of health care for all South Carolinians. The state's hospitals and health care systems employ more than 70,000 persons statewide. www.scha.org
#####