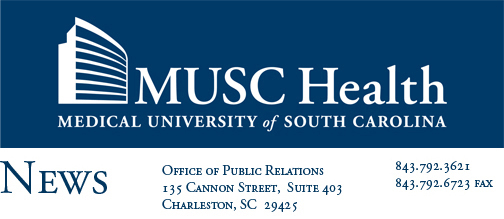 Contact:
Tony Ciuffo
843.792.2626
ciuffo@musc.edu


June 25, 2012
MUSC OBGYN department announces new chair, Order of Palmetto honoree and national association leadership
CHARLESTON -- The month of June has been a busy one for the Medical University of South Carolina (MUSC) Department of Obstetrics and Gynecology. As department chair Dr. Peter Van Dorsten, MUSC Lawrence L. Hester, Jr. professor, makes plans to step down July 1, he passes the reins to the department's first female chair, Dr. Donna Johnson, maternal fetal medicine division director and OBGYN professor.
On the cusp of this transition, Van Dorsten recently received the Order of the Palmetto award from Governor Nikki Haley's office during Memorial Day weekend for his contributions as a recognized leader in high risk pregnancy, reducing the rates of premature birth and for caring for the sickest babies in South Carolina. Joining the likes of singer James Brown, author Pat Conroy, and Civil Rights activist Septima Clark as a recipient, Van Dorsten was nominated by SC Rep. Murrell Smith, who presented him with the award. The Order of the Palmetto is considered the highest civilian honor in the State of South Carolina. It was first awarded in 1971 and recognizes a person's lifetime achievements and contributions to the state. Van Dorsten completed medical school at the University of North Carolina at Chapel Hill, his residency at MUSC and a fellowship in maternal fetal medicine at the University of Southern California.
Also this month, Dr. David Soper, J. Marion Sims professor, OBGYN vice chairman for clinical affairs, and director of both the division of Gynecology and General Obstetrics and the Reproductive Infectious Disease fellowship, was recently appointed to the Board of American College of Obstetrics and Gynecology. Soper is one of the world's most recognized experts in obstetrical and gynecological infectious diseases. He trained at the University of Miami School of Medicine in Miami, Florida, completed his residency in obstetrics and gynecology at the Naval Regional Medical Center (NRMC) in San Diego, California, and also completed a fellowship in infectious diseases in the Department of Medicine at NRMC-San Diego. He is one of only a handful of physicians worldwide with formal training in both ob/gyn and infectious diseases and his research interests reflect this training. He is a consultant to the Centers for Disease Control for updating the Sexually Transmitted Disease Treatment Guidelines and is currently involved in studying the HPV vaccine. Soper has authored more than 100 scientific publications related to infectious diseases in obstetrics and gynecology.
About MUSC
Founded in 1824 in Charleston, The Medical University of South Carolina is the oldest medical school in the South. Today, MUSC continues the tradition of excellence in education, research, and patient care. MUSC educates and trains more than 3,000 students and residents, and has nearly 13,000 employees, including approximately 1,500 faculty members. As the largest non-federal employer in Charleston, the university and its affiliates have collective annual budgets in excess of $1.7 billion. MUSC operates a 750-bed medical center, which includes a nationally recognized Children's Hospital, the Ashley River Tower (cardiovascular, digestive disease, and surgical oncology), and a leading Institute of Psychiatry. For more information on academic information or clinical services, visit www.musc.edu. For more information on hospital patient services, visit www.muschealth.com.
#####