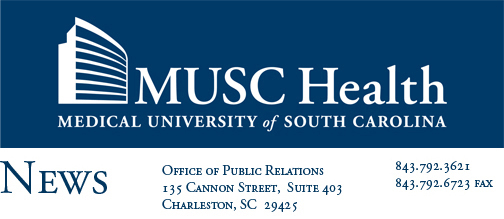 Contact:
Megan Fink
843.792.5172
finkm@musc.edu


June 20, 2011
MUSC using newly FDA-approved device for complex aneurysms
Only center in SC, one of 10 in the nation doing procedure
CHARLESTON -- Neurosurgeons at The Medical University of South Carolina (MUSC) have been selected to offer a new and effective treatment to patients suffering from complex brain aneurysms. The recently FDA-approved technology, called the Pipeline Embolization Device, gives physicians the ability to treat some of the most complex and dangerous brain aneurysms with the use of minimally invasive techniques.
"The Pipeline Embolization Device allows us to treat life-threatening brain aneurysms that were otherwise difficult or untreatable," said MUSC Comprehensive Stroke and Cerebrovascular Program co-director Raymond D. Turner IV, M.D. "Large and giant brain aneurysms are a rare, but often fatal problem that had no good treatment. At MUSC, we now have that ability to treat these patients and save their lives."
The treatment is focused on reconstruction of the weak blood vessel harboring the brain aneurysm. The Pipeline Device may offer improved patient results with a safe and effective treatment of large, wide-necked aneurysms, which until now has been an unmet clinical need. It is estimated that one in 50 Americans have a brain aneurysm, an abnormal ballooning of a portion of an artery in the brain due to a weakened blood vessel wall.
About MUSC
Founded in 1824 in Charleston, The Medical University of South Carolina is the oldest medical school in the South. Today, MUSC continues the tradition of excellence in education, research, and patient care. MUSC educates and trains more than 3,000 students and residents, and has nearly 11,000 employees, including 1,500 faculty members. As the largest non-federal employer in Charleston, the university and its affiliates have collective annual budgets in excess of $1.7 billion. MUSC operates a 750-bed medical center, which includes a nationally recognized Children's Hospital, the Ashley River Tower (cardiovascular, digestive disease, and surgical oncology), and a leading Institute of Psychiatry. For more information on academic information or clinical services, visit www.musc.edu or www.muschealth.com.
#####