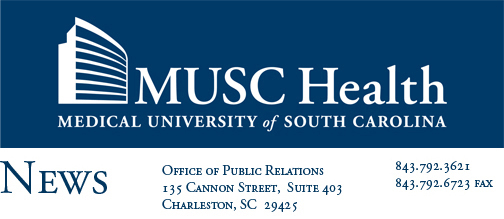 Contact:
Tony Ciuffo
843.792.2626
ciuffo@musc.edu


June 29, 2012
Don C. Rockey, M.D., named chair of the Department of Medicine at the Medical University of South Carolina
CHARLESTON -- Don C. Rockey, M.D., will be the new chair of the Department of Medicine at the Medical University of South Carolina (MUSC). Rockey comes to MUSC from the University of Texas Southwestern where he serves as professor of internal medicine and chief of the Division of Digestive and Liver Diseases. He will join MUSC on September 1, 2012. Rockey completed an internship and residency in Categorical Medicine at the University of California San Francisco (UCSF) from 1984-1988, serving as chief resident from 1987-1988. He completed fellowships in Gastroenterology at UCSF from 1988-1992. He served on the faculty at UCSF and Duke University Medical Center prior to joining the faculty at the University of Texas Southwestern in 2005. While leading the Division of Digestive and Liver Diseases at the University of Texas Southwestern, he led the development of strong clinical, educational, and both basic and clinical research programs.
"We were thrilled to recruit Dr. Rockey as Chair of the Department of Medicine," said Etta Pisano, vice president for Medical Affairs and dean of the College of Medicine. "He brings an exceptional combination of clinical, research, teaching, and administrative skills to lead the growth and development of the department."
Rockey is a member of the American Association of Physicians and the American Association for the Study of Liver Disease and a Fellow of the American Gastroenterological Association and the American College of Physicians. Rockey has also served as a member of the NIH's Hepatobiliary Pathophysiology Study Section, as an associate editor for Hepatology and Liver International, and has served on a number of journal editorial boards. He has authored over 200 publications and has given numerous invited lectures.
Rockey received his B.S. in biology from Virginia Polytechnic Institute and State University and his M.D. from the Medical College of Virginia in 1984, winning numerous awards for academic excellence.
Rockey's wife, Kathy, is a medical consultant with an MBA from the University of California at Berkley. The couple have three children: Kelsey (23), Nicole (21) and Daniel (18).
About MUSC
Founded in 1824 in Charleston, The Medical University of South Carolina is the oldest medical school in the South. Today, MUSC continues the tradition of excellence in education, research, and patient care. MUSC educates and trains more than 3,000 students and residents, and has nearly 13,000 employees, including approximately 1,500 faculty members. As the largest non-federal employer in Charleston, the university and its affiliates have collective annual budgets in excess of $1.7 billion. MUSC operates a 750-bed medical center, which includes a nationally recognized Children's Hospital, the Ashley River Tower (cardiovascular, digestive disease, and surgical oncology), and a leading Institute of Psychiatry. For more information on academic information or clinical services, visit www.musc.edu. For more information on hospital patient services, visit www.muschealth.com.
#####