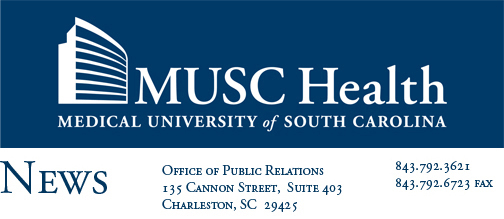 Contact:
Heather Woolwine
843.792.7669
woolwinh@musc.edu


Oct. 4, 2011
MUSC honored for excellence in patient care
Results from national, standardized survey tool measure patient satisfaction
CHARLESTON -- The Medical University of South Carolina (MUSC) Medical Center has received an Excellence in Patient Care award given by Studer Group®. The award is based upon exemplary "nurse communication" ratings on the HCAHPS patient survey.
HCAHPS, or Hospital Consumer Assessment of Healthcare Providers and Systems, is a national standardized survey tool used to measure adult inpatient perception of the quality of care they receive at a given acute care hospital.
The 27-question survey was created in 2002 by the combined efforts of The Centers for Medicare and Medicaid Services (CMS) and the Agency for Healthcare Research and Quality (AHRQ). Scores are publicly posted four times a year at www.hospitalcompare.hhs.gov.
Studer Group® gives its Excellence in Patient Care awards based on very high scores in each of the HCAHPS categories. MUSC Medical Center received its award in the "500 and Above beds" category for having the best responses to HCAHPS questions regarding nursing performance in the areas of courtesy, careful listening, and clear explanations. "Providing a positive patient experience is one of our top priorities. We are very pleased to have our nurses recognized for their great work," said Stuart Smith, vice president for clinical operations and executive director of the MUSC Medical Center
"This is the HCAHPS composite most highly correlated with overall satisfaction," explains Quint Studer, founder of Studer Group®. "In other words, communication matters—a lot. When nurses listen carefully, treat patients with courtesy and respect, and explain things in a way patients can understand, everyone wins. Patients get the best possible care, and the organization gets to feel good about providing it."
About MUSC
Founded in 1824 in Charleston, The Medical University of South Carolina is the oldest medical school in the South. Today, MUSC continues the tradition of excellence in education, research, and patient care. MUSC educates and trains more than 3,000 students and residents, and has nearly 11,000 employees, including 1,500 faculty members. As the largest non-federal employer in Charleston, the university and its affiliates have collective annual budgets in excess of $1.7 billion. MUSC operates a 750-bed medical center, which includes a nationally recognized Children's Hospital, the Ashley River Tower (cardiovascular, digestive disease, and surgical oncology), and a leading Institute of Psychiatry. For more information on academic information or clinical services, visit www.musc.edu or www.muschealth.com.
#####