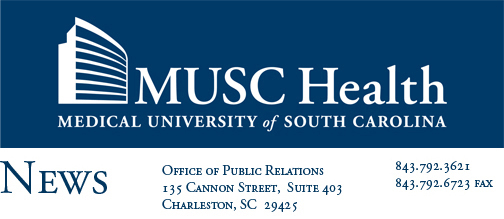 Contact:
Sarah Bates
843.792.5172
batessa@musc.edu


Sept. 17, 2012
MUSC nationally recognized for achievements in safety, care
Nation's most objective ranking source applauds hospital patients' outcomes
CHARLESTON -- As patients become savvier consumers of quality care, health care ranking systems are an increasingly popular way to gauge a hospital's performance in a variety of ways. The Medical University of South Carolina (MUSC) recently received the Rising Star Award at the annual meeting of the University HealthSystem Consortium (UHC) held September 13-14 in Orlando, FL. One of only four academic medical centers to do so, MUSC joined Duke University Hospital, Shands Jacksonville Medical Center, and Cleveland Clinic in receiving this honor.
"UHC congratulates these hospitals for successfully focusing on health care quality and accountability improvement," said Irene M. Thompson, UHC president and chief executive officer. "This Rising Star achievement is especially notable because other academic medical centers are also working in earnest to improve patient safety and quality, and thus it has become quite difficult to stand out among more than 100 peer organizations."
Rising Star Award winners moved up 20 or more spots in the UHC Quality and Accountability Study rankings since last year. Unlike other rankings of "top" hospitals, UHC relies solely on objective data and analysis of patient outcomes. MUSC ranked high in safety (fourth) and patient centeredness (eighth). Key measures assessed for safety were postsurgical complications and bloodstream infections. Physician and nurse communication, pain management, cleanliness, and staff responsiveness all factored into scoring for patient centeredness.
UHC is an alliance of the nation's leading nonprofit academic medical centers, which is focused on delivering world-class patient care. Based in Chicago, UHC fosters collaboration with and among its 116 academic medical center and 276 affiliated hospital members through its renowned programs and services in the areas of comparative data and analytics, performance improvement, supply chain management, strategic research, and public policy. UHC helps its members achieve excellence in quality, safety, and cost-effectiveness. Formed in 1984, UHC's membership includes a majority of the nonprofit academic medical centers in the United States. For more information, visit uhc.edu.
About MUSC
Founded in 1824 in Charleston, The Medical University of South Carolina is the oldest medical school in the South. Today, MUSC continues the tradition of excellence in education, research, and patient care. MUSC educates and trains more than 3,000 students and residents, and has nearly 13,000 employees, including approximately 1,500 faculty members. As the largest non-federal employer in Charleston, the university and its affiliates have collective annual budgets in excess of $1.7 billion. MUSC operates a 750-bed medical center, which includes a nationally recognized Children's Hospital, the Ashley River Tower (cardiovascular, digestive disease, and surgical oncology), and a leading Institute of Psychiatry. For more information on academic information or clinical services, visit www.musc.edu. For more information on hospital patient services, visit www.muschealth.com.
#####